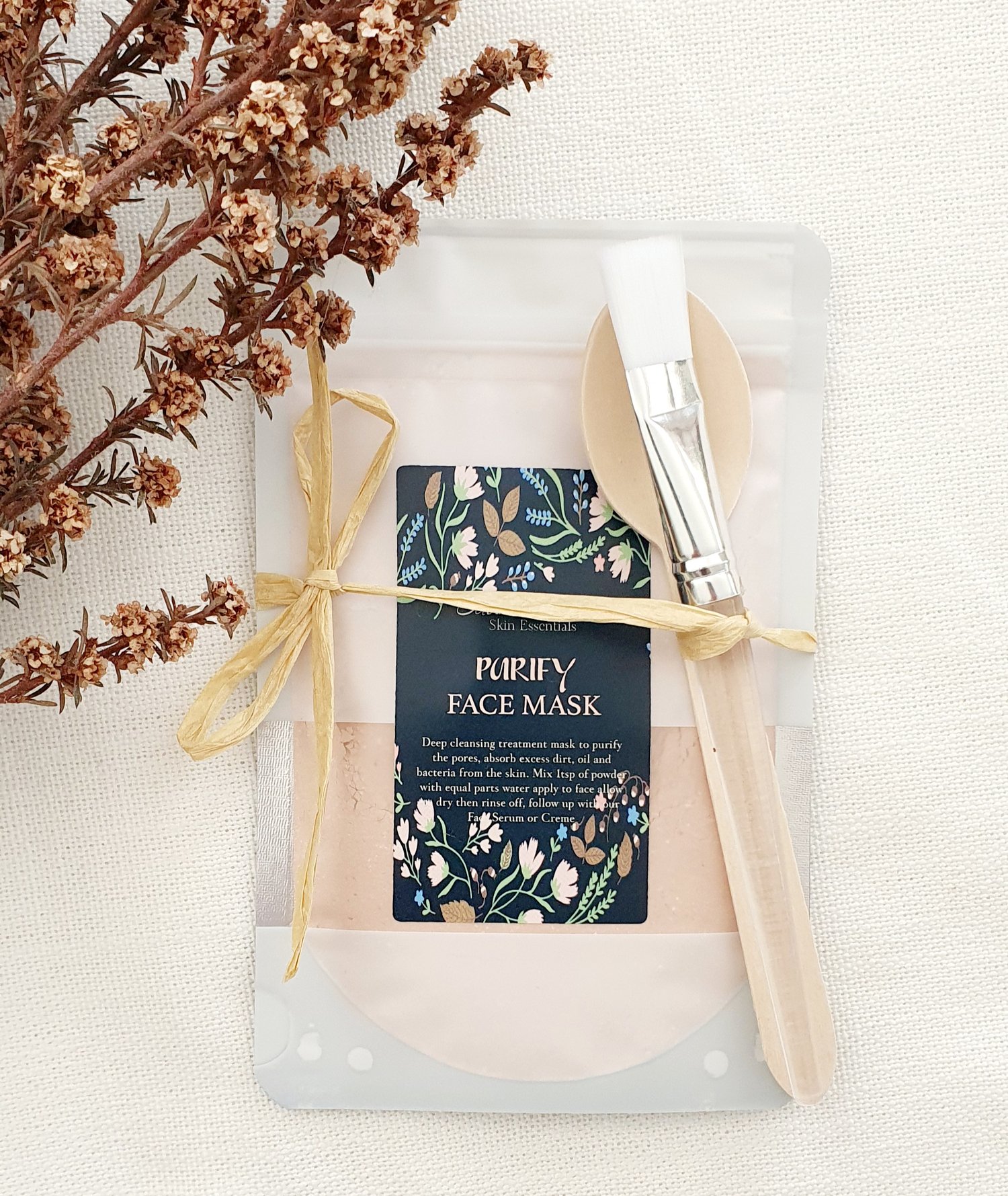 PURIFY FACE MASK with Morrocan Rhassoul clay + Manuka Honey powder
PURIFY FACE MASK SET with application brush & spoon
--------
Suitable for Normal, Sensitive, Dry or Mature skin types
Enjoy some serious skin pampering in the comfort of your own home with one of Mineral Clay Face Masks!
This deep cleansing vitamin and mineral rich treatment mask works to purify the skin, draws out excess dirt, oil and bacteria which tightens and minimises the pores for optimal skin health.
---------
So how do clays work?
In clay's natural state, it possesses negatively charged molecules, where most toxins, heavy metals and bacteria have positively charged molecules. When applied to the skin, what happens is the two bind together and through the process of washing the clay off, you escort these toxins off the skin.
This ability alone can improve the overall quality and health of the skin by improving the immunity of the surface of the skin and greatly reducing inflammation.
To use//
Activate 1 teaspoon of the dry powder by mixing it with half a teaspoon of purified water (if you have dry skin try add a pump of our facial serum for extra hydration) add small amounts of liquid at a time while mixing to a thick paste or your perfered consistency
(Due to the highly negative charge of the clays, avoid using any metal utensils when preparing the powder, bamboo or ceramic are preferable)
Apply a thick paste to the face and neck.
After 10 minutes wet hands and gently massage the face in circular motions for mild exfoliation. Then wash off in the shower or over basin with a warm dark cloth.
---------
Use as a once a week treatment and you will notice the difference your pore size will minimize, skin will be smooth, soft and radiant and it will help clear up breakouts.
--------------
Packaged in a 50g pouch, giving you 8-10 full applications
--------------
SKIN BENEFITS//
Rhassoul (morrocan clay) this truly exquisite spa quality clay comes from ancient deposits unearthed from the fertile Atlas Mountains in Morocco.
It is rich in minerals that are beneficial for the skin, primarily Silica and Magnesium.
Red Agiletz clay is especially rich in minerals and ferric oxides. It softens the skin and helps restore radiance. Also high in iron oxide and helpful for broken capillaries, bags under the eyes and sensitive skin types. Red clay is an oily, mildly absorbent clay and is best used on sensitive, dry or mature skin.
White Kaolin Clay works as a very mild exfoliant, gently removing dead and dry skin cells to leave you with clarified, glowing skin as well as reducing the size of your pores. It also works to very gently draw out dirt, oil and grime from deep within the pores
Zeolite removes toxins by deeply cleansing, purifying and detoxifying your skin, unclogging and refining your pores and eliminating free radicals. 
Manuka Honey powder has been shown to improve skin wound healing from its strong anti-bacterial, anti-viral and antioxidant properties. Heals scarring and damaged skin
Grape seed extract is composed of a complex mixture of flavonoids, Vitamin E, linoleic acid, and phenolic procyanidins. The active agents of this extract are proanthocyanidins and catechins which are potent antioxidants in grape seeds that are believed to be 20 times greater than vitamin E and 50 times greater than vitamin C!
-------------
Ingredients// Moroccan Rhassoul clay, Red Argiletz clay, White Kaolin Quartz clay, Zeolite clay, Manuka extract, Grapeseed extract