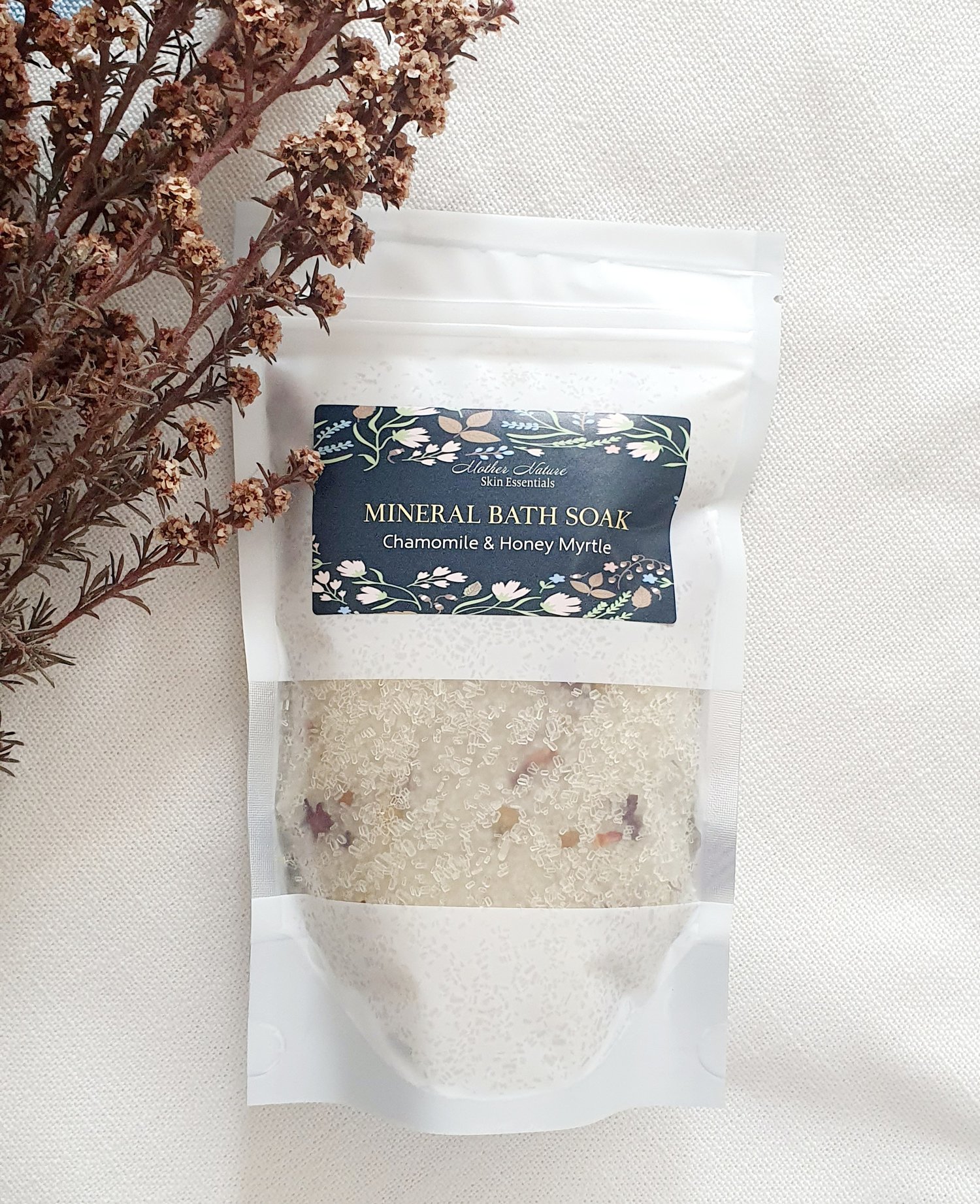 Mineral Bath & Foot Salt Soaks | Rose Petals & Chamomile flowers | Magnesium salts
MINERAL SALT BATH SOAK
When life seems a little hectic and chaotic, this soothing magnesium based botanical bath soak will add a little 'calm' to your world. A collection of mineral-enriched natural salts and botanicals aimed at relaxing and easing muscles as well as calming the body & mind.
Not only do our Salt Soaks offer incredible aromatherapy benefits, they also work to;
~ Draws out toxins, heavy metals and pollutants in the body
~ Increased circulation, which helps to decrease cellulite
~ Rich in vitamins, minerals, amino acids and trace elements that get absorbed into the skin through dermal absorption and offer incredible healing benefits to the skin and body
~ Australian Native Honey Myrtle Essential Oil uplifts and refreshes the mind, body and spirt, helping to reduce both emotional and physical fatigue
~ Supports stress reduction, reduces pain & swelling and soothes sore muscles and body tension
~ Magnesium boost, which is one of the most important positively charged ions in the body
Rich in Magnesium, bromide, sulphur, zinc and sodium, which, when absorbed reap many health benefits for your skin and body. The combination of minerals in both of these salts works miracles on dry itchy skin associated with eczema and psoriasis. This healing all natural mineral-infused bath will leave you feeling revitalised and relaxed
Directions/ Add desired amount to running bath, stir to dissolve, soak for at least 20 minutes to absorb all the incredible benefits a salt bath offers.
-------------------
Ingredients/ Magnesium sulphate, Dead sea salt, Pink Himalayan salt, Organic Rose Petals, Organic Chamomile flowers, French Green clay, sweet almond oil, Organic Honey Myrtle Essential oil
If you would like your order gift wrapped and a handwritten note added please leave a message on ordering!