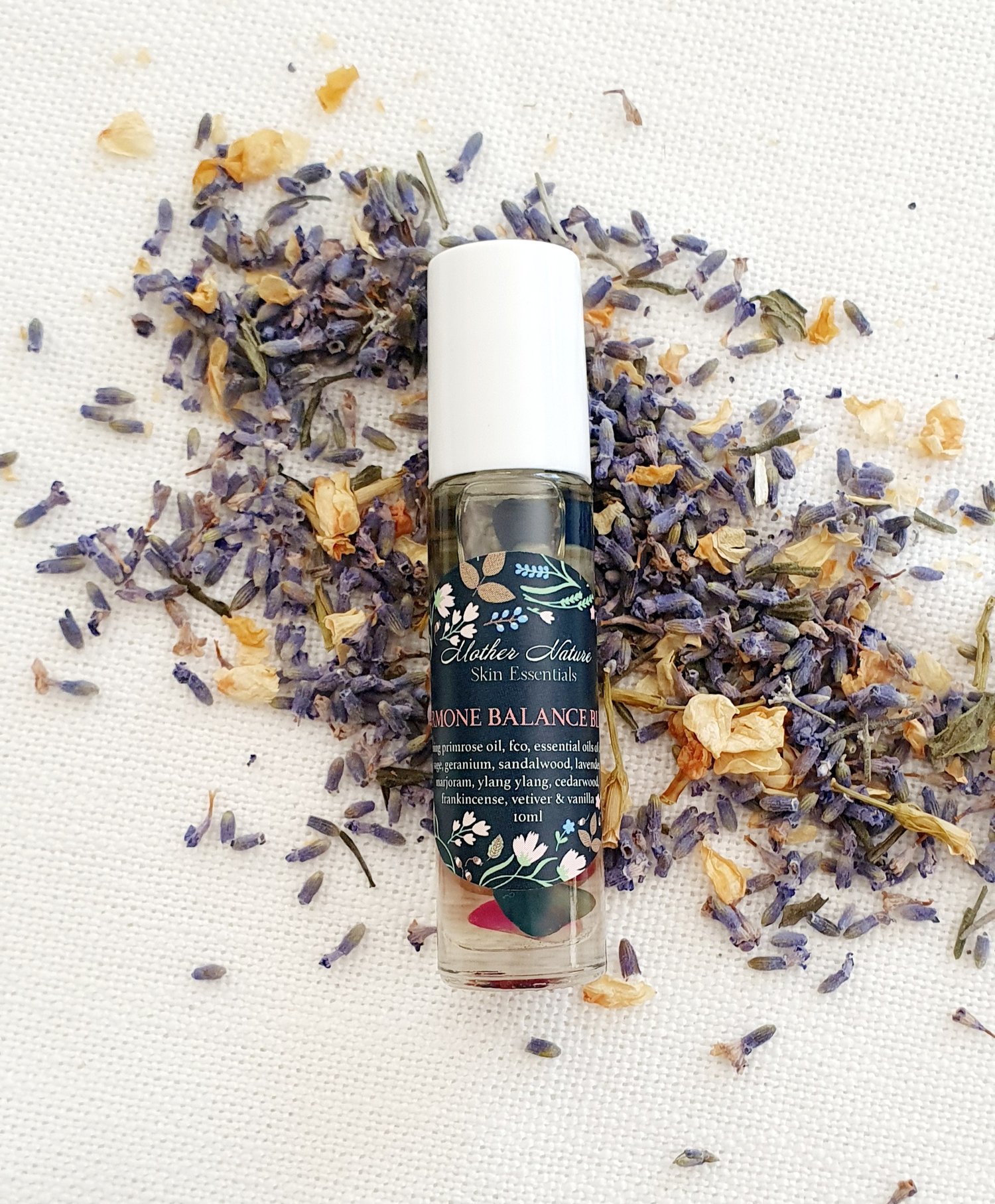 Hormone balance Blend | Essential oil Roller blend | Happy Hormones
Hormone Balance Roller is a topical blend of organic evening primrose oil, fractionated coconut oil, clary sage, geranium, lavender, marjoram, roman chamomile, cedarwood, vetiver, ylang ylang oil, hawaiian sandalwood, frankincense oil and vanilla bean extract.
With added high quality crystal chips to infuse a beautiful healing vibration.
Aromatic Description- A sweet, floral and earthy aroma with a hint of vanilla bean which promotes a feeling of calm and balance.
These aromatherapy oils have been used for centries by herbalists alike, to help support the female body and its own challenges.
By balancing the hormone levels naturally, stimulating adrenal function, alleviating pain, cramps, hot flushes, nausea & mood swings with a powerful sedative effect on the emotions to keep your hormones happy & balanced. Apply before & during menstration and/or menopause.
--------------------
Packaged in a convenient 10ml amber roller bottle ready to apply and keep with you in your handbag.
Massage across the throat area (thyroid), thymus (breast bone), and lower abdomen (ovaries) area~ twice daily pre-menstral and during menstration beneficial to apply upto 3-4 times daily as you feel need. Apply to these areas also during menopause.
• Wild-crafted Therapeutic Essential Oils
• Packaged in a 10ml high quality glass roller bottle
• Vegan and Cruelty-free
• Herbalist & Aromatherapist formulated
-----------------
Aromatherapy has been around for some 6000 years. As a holistic treatment, aromatherapy can have a profound effect on physical and psychological wellbeing. There exists the belief that scent, as the most enduring of our senses, has the power to transform our emotions, and heal our bodies.
The Essential Oils used in aromatherapy are extracted from plants (leaves, flowers, stem, bark, roots) to treat conditions ranging from infections and skin disorders to immune deficiencies and stress. When aromas are detected in the nasal cavity, impressions associated with previous experiences and emotions are created. Combining this with the fact that the parts of the brain that control heart rate, blood pressure, breathing, memory, stress levels and hormone balance are also related to the nasal cavity, it is evident that the use of essential oils contributes to and achieves many physiological or psychological effects. Plant Medicine 🍃
----------------------
SAFETY// For external use only.
Avoid contact with eyes.
As with all new products, always do a skin patch test before use.
Store in a cool, dry place
*Disclaimer
MNSKINESSENTIALS are not intended to diagnose, treat, cure or prevent any disease.
Consult physician or doctor if pregnant or breastfeeding