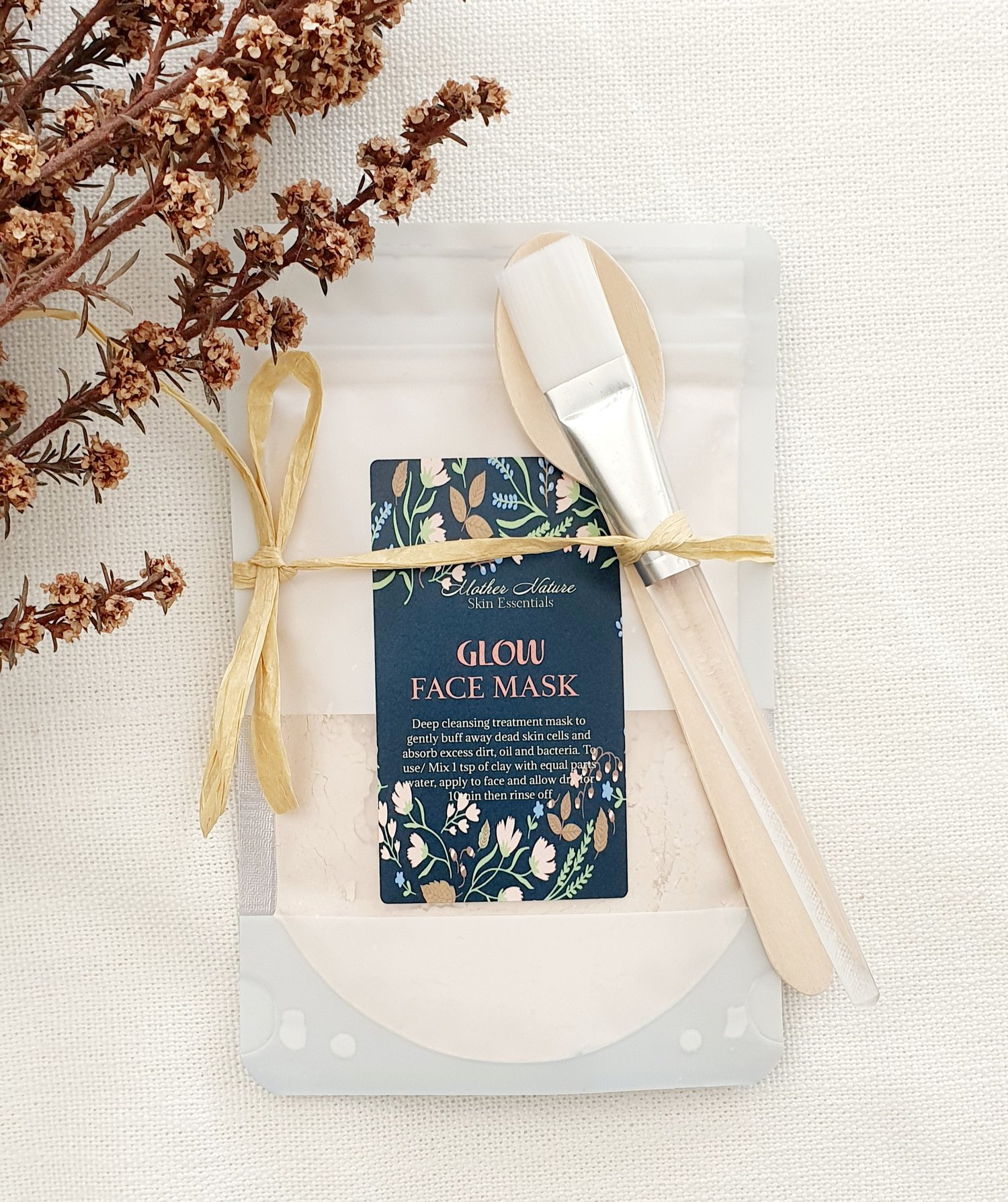 GLOW Face Mask with Pink Clay, Pineapple & Manuka Extract
GLOW FACE MASK with Australian Pink Clay + Pineapple + Manuka extracts
---------------
Suitable for Sensitive, Dry, Oily/acne, Combination or Normal skin types
Packaged in a 50g pouch, giving you 8-10 full face applications
---------------
Enjoy some serious skin pampering in the comfort of your own home with one of Mineral Clay Face Masks!
This deep cleansing treatment mask to gently buffs away dead dull skin cells. Purifies the pores, absorbs excess dirt, oil and bactetia from the skin while depositing essential vitamins and minerals to leave your skin refined, healthy and glowing.
---------------------------
Pink Clay helps to restore and replenish skin with moisture, draw out impurities and lightly exfoliate the complexion with its slightly grainy texture. Gentle on sensitive skin, Pink Clay can also help to reduce irritation and inflammation from skin concerns such as acne by soothing and balancing skin and promoting healthy cell renewal. With its smooth exfoliating action, Pink Clay can also help to minimise blackheads, hormonal breakouts and congestion, making it perfect for those with aggravated or acne prone skin
----------
Zeolite removes the pollution by deeply cleansing, removing impurities and detoxifying your skin, unclogging and refining your pores and eliminating free radicals
----------------
White Kaolin Clay works as a very mild exfoliant, gently removing dead and dry skin cells to leave you with clarified, glowing skin as well as reducing the size of your pores. It also works to very gently draw out dirt, oil and grime from deep within the pores
---------------
Bentonite clay helps to remove toxins from your pores, allows skin to heal and reduces inflammation. Bentonite clay helps in the lightening of acne marks on the face
--------------
Pineapple extract is a storehouse of vitamin C, bromelain and antioxidants, which are extremely beneficial in the treatment and prevention of acne, fine lines, sun damaged and uneven skin toning
----------------
Manuka extract has been shown to improve skin wound healing from its strong anti-bacterial, anti-viral and antioxidant properties. Heals scarring and damaged skin
--------------
DIRECTIONS// Using the spoon provided measure 1 Tsp of the powdered clay in a small bowl.
Add half a teaspoon of water, making sure to add small amounts of liquid at a time while mixing to a thick paste or your perfered consistency.
Apply over face and neck allow to dry for 10-15 mins, wet hands and rub in circular motions to gently exfoliate the skin and wash off with a warm damp cloth.
Follow up with one of our Facial Serums or Moisturisers to leave your skin ultra smooth, soft and glowing.
------------------------
Ingredients// French Pink Argile clay, Zeolite clay, White Kaolin Quartz clay, Bentonite clay, Pineapple fruit extract, Manuka powder extract