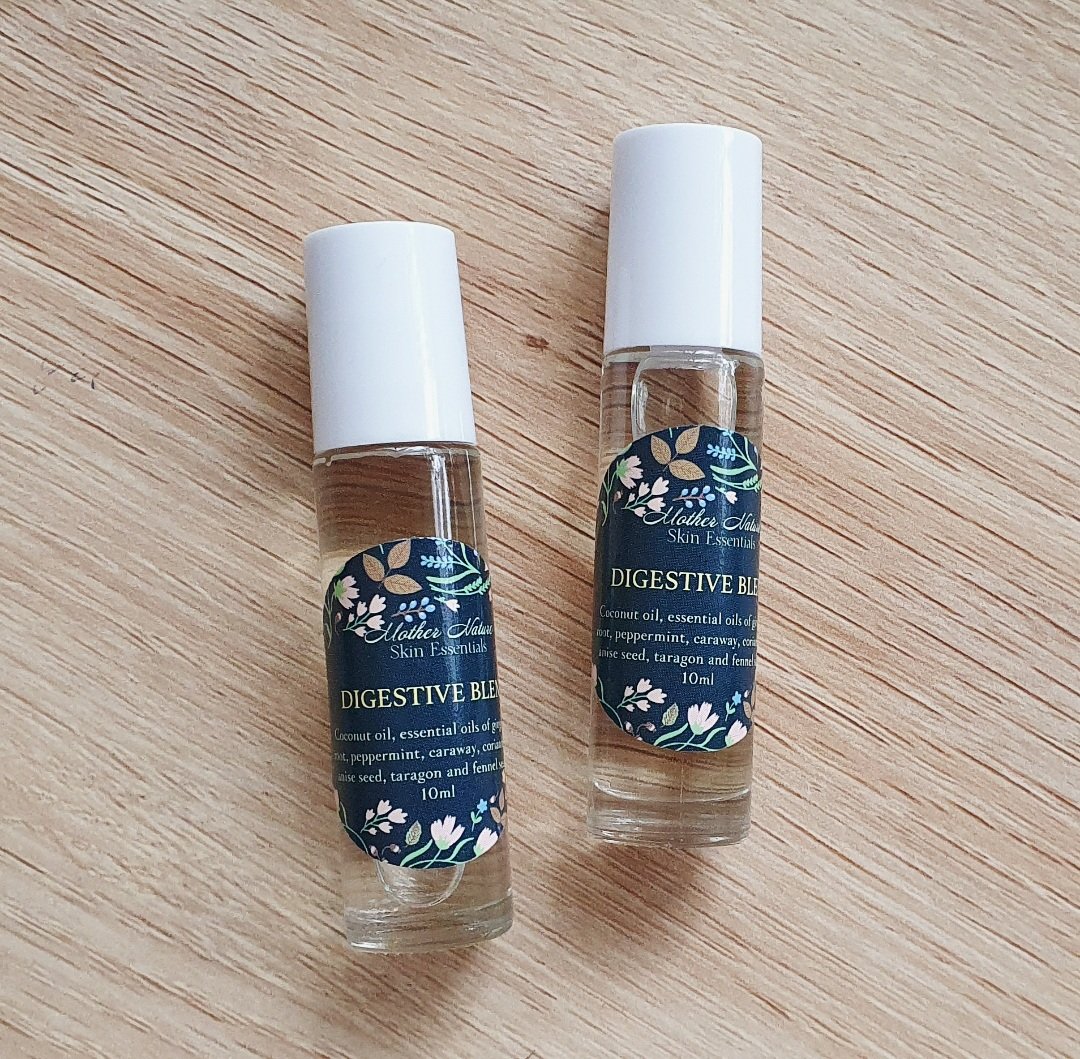 Digestive blend Essential oil roller
Digestive Essential Oil Blend aids in digestion, soothes occasional stomach upset and bloating. This unique blend contains Ginger, Fennel, and Coriander essential oils to help ease stomach discomfort, including motion sickness, indigestion, morning sickness and nausea while Peppermint, Tarragon, Anise, and Caraway aid with digestion and help maintain a healthy gastrointestinal tract.
Safe and natural option to use during pregnancy.
----------
Digestive blend is great to have on hand when stomach upset occurs and is safe and effective when used daily.
----------
10ML ROLLER BOTTLE
----------
TO USE//
Massage over the tummy in a clockwise direction and apply to bottoms of feet for children to help ease stomach pains, gas, bloating and digestive upset. Every 1-2 hours , or as needed.
Safe for use in years 1+.
Dilution % varies for children and adults please choose upon ordering.
-------------------
• Packaged in 10ml Amber glass bottle with stainless steel roller
• Made with Organic Wild-crafted Essential oils
• Natural, Safe, Effective
-------------------------
Ingredients//
Fractionated Coconut oil, Ginger Rhizome/Root, Peppermint Plant, Caraway Seed, Coriander Seed, Anise Seed, Tarragon Plant, and Fennel Seed essential oils.
-----------------
All essential oils used in our blends are Certified Pure Therapeutic Grade essential oils. Organic and wildcrafted.
-------------------
Aromatic Description
Spicy, sweet, minty, licorice
-----------------
Precautions//
For external use only
If skin sensitivity occurs discontinue use. Keep out of reach of children. If you are pregnant, nursing, or under a doctor's care, consult your physician. Avoid contact with eyes, inner ears, and sensitive areas.
Store in a cool dry place.
-----------
*Disclaimer
MNSKINESSENTIALS are not intended to diagnose, treat, cure or prevent any disease.