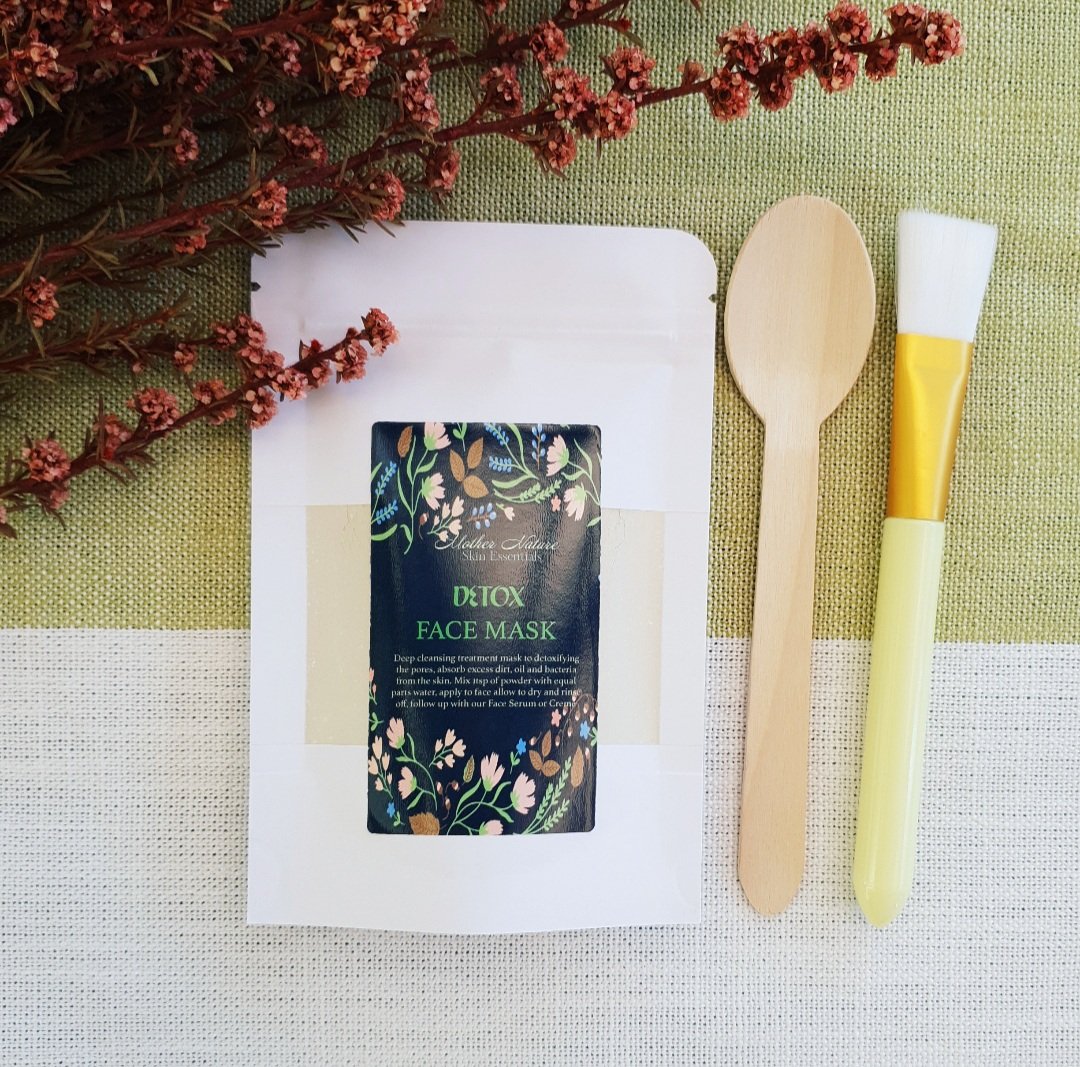 DETOX Face Mask with Green clay + Manuka extract | Teen, Oily or blemish prone skin types
DETOX FACE MASK SET
----------------
Suitable for Combo | Oily | Acne | Hormonal | Blemish or Congested skin | Teen Skin
-------------------
Why Clays are a must in your skincare regime!
As environmental pollutants come into contact with the skin, they can store in the pores and lead to inflammation, black heads and allergic responses. The use of a clay mask will absorb dirt, impurities and bacteria leaving your skin feeling renewed, clean, oxygenated and less inflamed.
--------------------
Use 1-2 times a fortnight as a full face mask OR as a spot treatment on problem areas for best results
-----------------
SIZE// 50g packet gives you 8-10 full masks
------------------
To use//
Activate 1 teaspoon of the dry powder by mixing it with half a teaspoon of purified water (if you have dry skin try add a pump of our facial serum for extra hydration)
add very small amounts of liquid at a time while mixing to a thick paste or your perfered consistency
*Due to the highly negative charge of the clays, avoid using any metal utensils when preparing the powder, bamboo or ceramic are preferable.
Apply a thick paste to the face and neck.
After 10 mins wet hands and gently massage the face in circular motions for mild exfoliation. Then wash off in the shower or over basin with a warm dark cloth.
--------------
Key skin benefits//
French Green Clay has strong detoxifying benefits which can be attributed to its unique blend of minerals such as dolomite, manganese, silica, copper, phosphorous, magnesium, zinc and calcium. Green clay masks are highly recommended for oily, clogged or acne prone skin but it's mild enough for any skin type as a part of your clarifying treatments.
Zeolite removes toxins by deeply cleansing, purifying and detoxifying your skin, unclogging and refining your pores and eliminating free radicals. 
White Kaolin Clay works as a very mild exfoliant, gently removing dead and dry skin cells to leave you with clarified, glowing skin as well as reducing the size of your pores. It also works to very gently draw out dirt, oil and grime from deep within the pores.
Bentonite clay helps to remove toxins from your pores, allows skin to heal and reduces inflammation. Bentonite clay helps in the lightening of acne marks on the face.
Pineapple extract is a storehouse of vitamin C, bromelain and antioxidants, which are extremely beneficial in the treatment and prevention of acne, fine lines, sun damaged and uneven skin toning
Manuka powder extract has been shown to improve skin wound healing from its strong anti-bacterial, anti-viral and antioxidant properties. Heals scarring and damaged skin
---------------------------
How do clays work to draw impurities out of your skin?
The molecules in Clays have a charge, specifically a negative charge. Since most of the impurities on your skin are positively charged, the clay and the toxins attach to each other. The clay acts like a magnet. When you remove the mask you wash the impurities down the drain as well leaving behind fresh, clean and clear skin.
----------------
Ingredients// French Green argile clay, Zeolite clay, White kaolin quartz clay, Bentonite clay, Pineapple fruit extract, Manuka powder extract
---------------