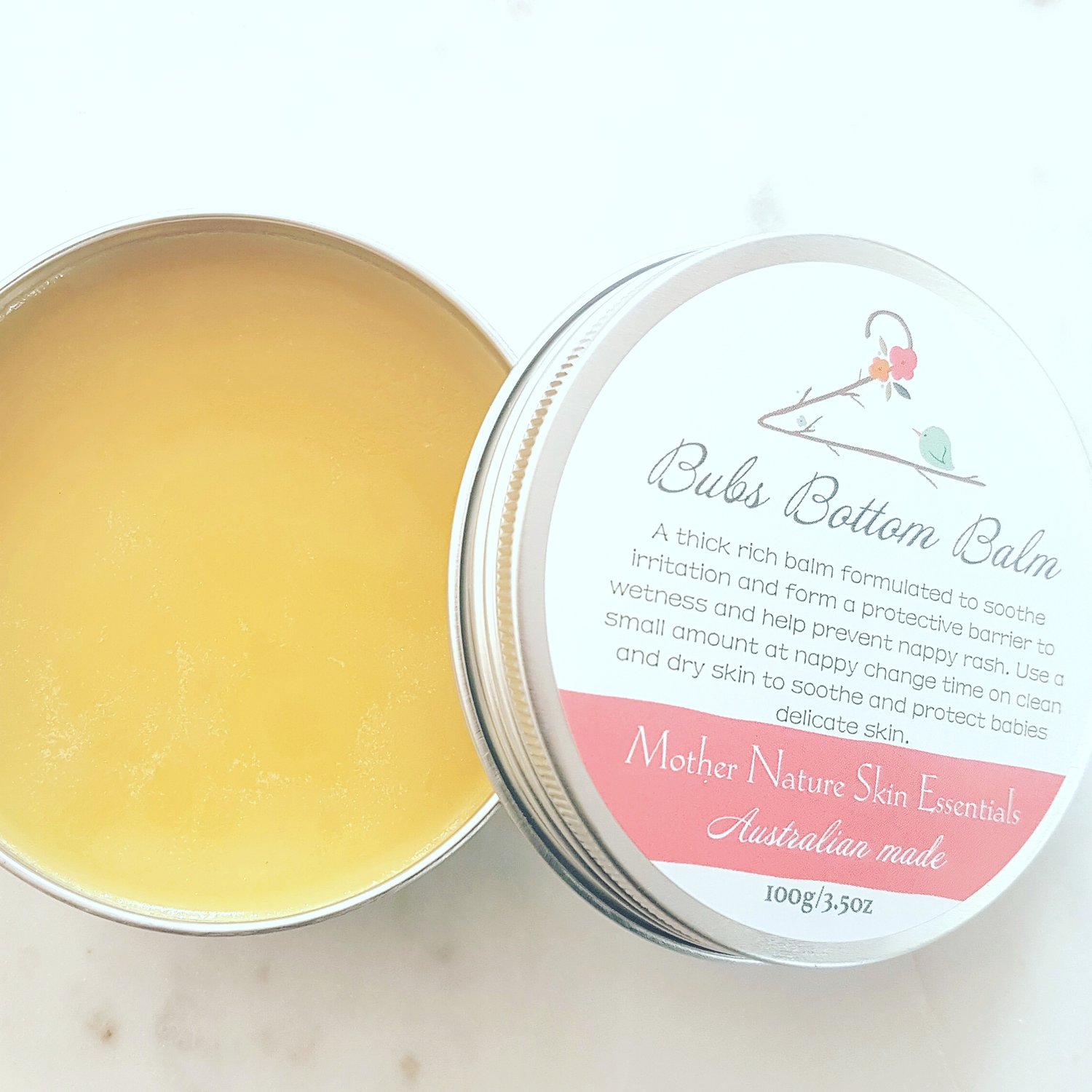 Bubs Bottom Balm/Nappy rash salve
Bubs Bottom Balm
A thick rich balm used at nappy change time formulated to soothe irritation or nappy rash and forms a protective barrier to wetness to help prevent nappy rash. A Shea and Cocoa butter base infused with Calendula flower oil and soothing Lavender and Tea tree pure essential oils.
TO USE//
With clean dry hands apply a small amount at nappy change time on clean and dry skin to soothe and protect babies delicate nappy area.
A very multi purpose balm that can be used to soothe all skin irritations and dryness. Rashes, cuts, cradle cap, bruises or insect bits.
SKIN BENEFITS//
Shea Butter: This extraordinary skin care ingredient is an amazing body healer and its rich in precious constituents, which include unsaturated fats, essential fatty acids, phytosterols, vitamin E and D
Calandula flower oil has great anti-inflammatory action, making it helpful with wounds, rashes, eczema, and related conditions. It addresses sore, inflamed, and itchy skin conditions.
Organic Castor oil: This is a rich, non-drying oil perfect for both skin and hair. It is naturally rich in anti-oxidants and works as a deep conditioner and moisturizer. Because of castor oil's healing qualities, we like to use it to soothe skin disorders such as eczema and psoriasis and is an effective skin barrier for our bottom balm.
Tea tree essential oil: Among many other valuable properties, Tea Tree has a particularly powerful anti-infectious action. Our knowledge of the uses and properties of this oil derive from a very long history of use by our Indigenous Australians.
♡ All Natural Ingredients
♡ Handmade in small batches with love
♡ Vegan friendly and Cruelty Free
Mother Nature Skin Essentials products are eco-friendly and non-toxic made with plant-based ingredients, botanical extracts and pure therapeutic grade essential oils. Using Plant-Based Skincare Products is safe for you and the environment because you are not absorbing harmful chemicals into your skin, nor washing toxins into our waterways.
[We recommend to always patch test new products for any skin sensitivity]
If you have any questions regarding this or any product, please dont hesitate to send us a message; we'd love to help you discover the best ways to care for your skin, holistically and naturally. Its our hope you take as much pleasure in using these products as we do in making them!
Ingredients: theobroma (Cocoa) seed butter, butyrospermum parkii (shea) butter, calendula offinalis flower oil, carthamus tinctorius (safflower) oil, vitis vinifera (grapeseed) oil, copernicia prunifera (carnauba) wax, communis (castor) oil, alpha tocopherol(vitamin E) oil, lavendula augustifolia(lavender), melaleuca alternifolua (tea tree) essential oils