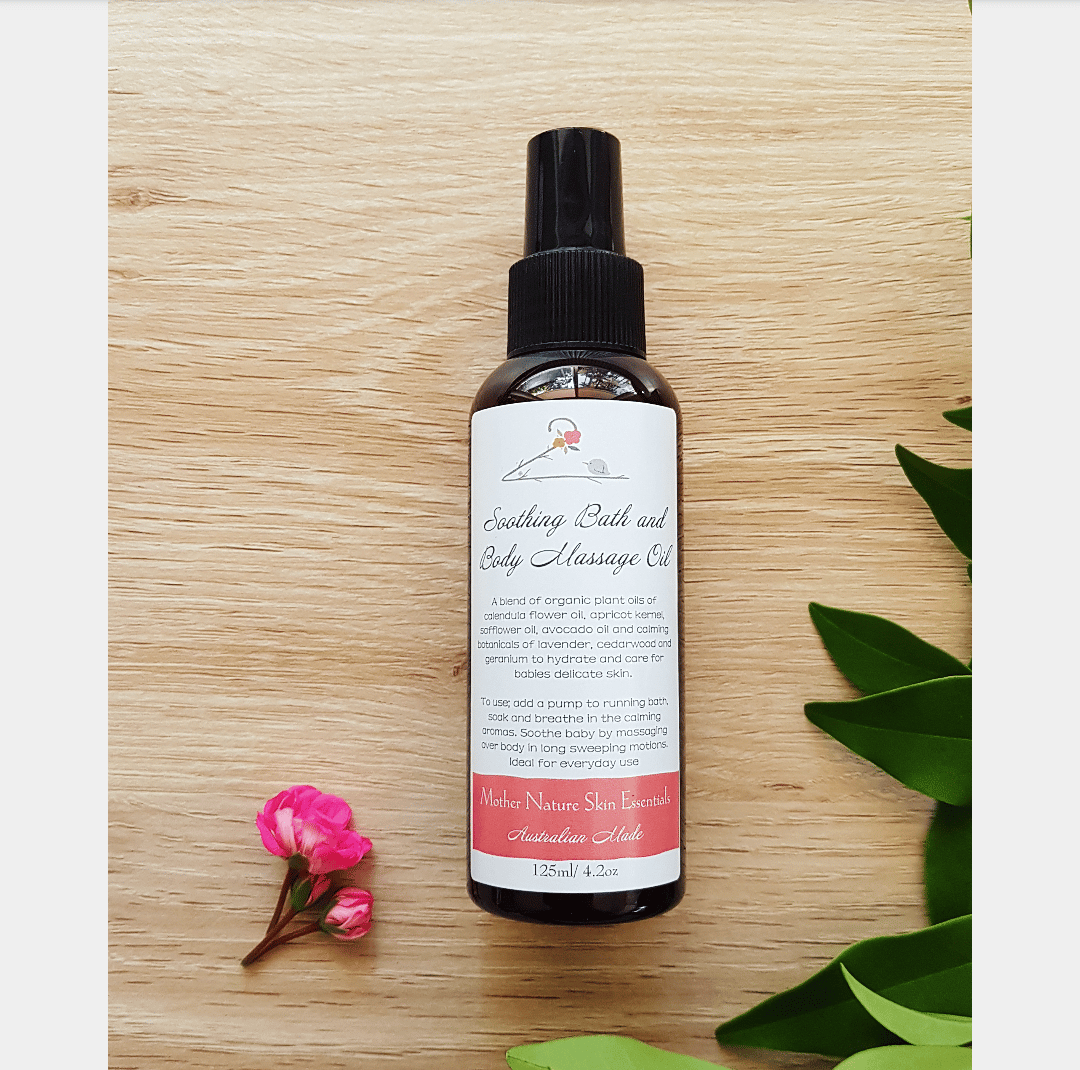 Organic Bath and Body Massage Oil | Soothing All-in-one Bath & Body oil
Soothing All-in-one Bath & Body Oil
---------
125ml amber bottle
with serum pump
--------
This hand blended all-over body oil is a must have to keep your skin smooth, soft and hydrated.
Its a gentle cleanser, moisturiser, massage oil and bath oil all-in-one. It re-balances, soothes and nourishes the skin and the beautiful aroma will relax and promote feelings of warmth and well-being.
----------
100% Organic plant oils + Wildcrafted Essential Oils
NO Nut oils
NO Artificial Fragrance
NO petroleum based mineral oil
NO Synthetic fillers or additives
Palm Oil Free
-----------
Made with only the finest ingredients, it can be beneficial for eczema, nappy rash, heat rash, craddle cap and other dry, sensitive skin conditions
----------
TO USE//
For bathing add a pump to a running bath
For moisturising, warm a pump of oil in palms of hands and gently massage over arms, legs and back.
For craddle cap, massage a small amount into the scalp, comb through, leave in over night. Wash out with a natural shampoo. Will help to soften and dissolve the dry dead skin and balance the sebaceous glands.
-----------
Ingredients // calendula officinalis (calendula) flower oil, persea gratissima (avocado) oil, prunis ameniaca (apricot) oil, carthamus tinctorius (safflower) oil, rosemary officinalis leaf extract, natural alpha tocopherol (vitamin E) oil, lavendula augustifolia (lavender) oil, cedrus atlantica (cedarwood) oil, pelargonium graveolens (geranium) oil
------------
Calandula flower oil is great anti-inflammatory oil. It addresses sore,inflamed, dry and itchy skin conditions.
Apricot oil high in vitamins A and E which are deeply nourishing and hydrating
Avocado oil is rich in antioxidants and contains high amounts of proteins, essential fatty acids and vitamins to keep the skin supple, moisturised and healthy.
Lavender- has antiseptic and anti fungal properties. Speeds up the healing process. Calming sedative effect on the body & mind
Cedarwood has a calming sedative effect on the mind and promotes a restful nights sleep. Antiseborrhoeic qualities make this oil great in tackling skin complaints like eczema
-----------
If you have any questions regarding this or any product, please dont hesitate to send us a message; we'd love to help you discover the best ways to care for your skin, holistically and naturally. Its our hope you take as much pleasure in using these products as we do in making them!
----------------
*Disclaimer
MNSKINESSENTIALS are not intended to diagnose, treat, cure or prevent any disease.